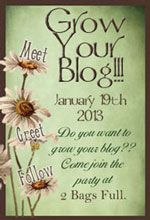 So excited about this blog party!! First and foremost I will explain a bit about how this works. Vicky at
2 Bags Full
is hosting this party and it is kind of like an 'open house', but on the web. She has (will have as of midnight 1/19/13) a list on her blog of all the bloggers involved. And I am sure she is as surprised as I am that over
400
bloggers replied to this party!!! Then you can go to as many blogs as you like and get to know some really great people. Some of them will even have giveaways to enter in for as well (and so do I, so keep reading!!). Follow the ones you like, if you want, and have lots of fun in the process, what's better than that?
So for this post we are to tell a bit about our self and our blog. Since I haven't done that for a while, and I know I have readers who haven't been reading here for long, I think this is a great idea.
Here is some random info on me and my blog...
~ I married my high school sweety. I was 14 when we met and we dated for 5 years before we got married (gave me time to finish high school and for him to finished college). We've been married now for almost 16 years. That is 21 years with the same guy!!! :0)
~We have one daughter who is homeschooled. We always wanted more children, but it didn't work out that way. We love her to pieces, even when her teenager-ways drive us nuts!!
~We live in the country and our 'homestead' consists of 10 acres, a barn/shop, lots of cats, 2 dogs, a rabbit, a guinea pig and some fish. We've had cows, chickens and goats in the past and our daughter begs for a horse almost every single day!! Thankfully her friend has horses and she gets her horse fix over there!!
~I love to cross stitch. Mostly this is what my blog consists of. I also love to crochet and am hoping to learn more so I can do more than just square blocks!!! I would also like to learn to knit this year. I do dabble a bit in other sewing and crafts like quilting, card making and sewing clothes (though not much) and will share those things on my blog as well.
~For the last year or so, my heart has really been pulled towards stitching and crafting for charity causes. The one I'm most involved with at this time is
Love Quilts

.
I do post quite often about this since that is what takes up most of my stitching time.
~I am motivated by challenges, SALs (stitch-a-longs), and deadlines. I love making lists and checking things off. I really only get things done if others know that I should be working on something:) So I have a couple pages at the top of my blog for goals, links to SALs, and challenges that I'm involved in. If you decide to read my blog in the future, please feel free to ask how things are going and give me a little kick in the pants to make sure I'm staying on track!!! :0) And if you know of any other groups I should be involved in, let me know!!
Okay, so this is a little about me. I do blog about family things and just random things at times too, but this gives you an idea of how things roll here in my little corner.
GIVEAWAY!!!
This is the fun part!!! I have given lots of thought to what I wanted to do as a giveaway and I've decided that it will have a Valentine's theme. I'm not going to show you all of what it is, but I will say that there is lots of pink and red and hearts involved!!! And, of course, a bit of it will be stitched, because what is a stitchy blog without some stitched up goodies?!?!? So, do you want to see a preview?

Some pretty fun Valentine things always makes me smile!! :)
Some rules for this giveaway...
~You need to leave a comment on this post. You need to make sure I have some way of contacting you if you should win. You can be an anonymous user so long as I can get back with you.
~Anyone, anywhere can enter. You don't need to become a follower of my blog (though I would love it if you did, of course:), and you don't have to be a blogger.
~I will announce the winner on Feb 1st and send out a couple of reminders between now and then.
I think that does it. This is my first giveaway as well, so I'm super excited to be able to do it!!!
Good luck to everyone who enters. Maybe I'll be seeing you on your blog tomorrow too:)