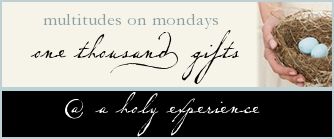 Here is something new (for me) that I found today while looking around at different blogs. This blog is the sweetest ever, I just love her sence of peace and the comforting way she 'talks'. So I thought I would start blogging my own 'Monday blessings' and see if after a while, I too, could come up with 1000 blessings:)
1. Snow - even though I really dislike the cold, we really needed the moisture. Now the wheat fields and pasture land that surrounds us will get the moisture they so desperately need.
2. Snow :) Okay, this is two fold, because while I don't like it, my dd LOVES it. She is out in it for the second time today, and no, school isn't getting done as much as I'd like, well, tomorrow will be too cold for her to be out in it, and we can make up the couple things we didn't get to today:)
3. Homeschooling. Goes back to the last one:) While we do have a list of what needs done everyday, we also have some wiggle room for days like today when the white fluffy stuff outside calls her name. And on the first days of warm spring and on the last days of lovely autumn. Not only do we get to learn together, but we have the time and flexabilty to enjoy all that comes our way:) (And while some kids got the whole day off, we still did get some schooling in:).
4. Cats. One batch of kittens that was born early this summer just got their first peek at snow this morning. It was really funny!!! First they tried to attack it, then realized that their paws were cold and wet and tried shaking them off with every step they took!! :)
Now that I try and think of daily blessings, I could list lots and lots:) I guess this will be all for now though. I will have another post this evening for my stitching.